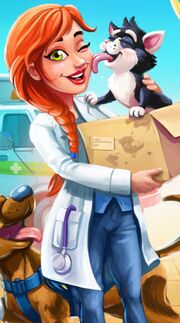 Homeplace: Snuggford
Former place: Arthur's Clinic, New York, USA (same as Angela Napoli)
Place of birth: New York, USA
Years active: February 2017 - present
Amy Cares is a character in Dr. Cares series. She is the newest actress starred, with Emily O'Malley, Mary Vanderworth (former), Allison Heart, and Angela Napoli.
Personality
Edit
Appearance
Edit
Amy Cares is faced opposite to Angela Napoli, Emily's sister. Amy wears her doctor coat (similar to Allison Heart), with white dress inside her coat similar to Angela. In her main appearance, she wears a blue shirt, with dark-red high heeled-boots.
Amy wears a yellow dress inside her doctor coat in Android icon appearance.
Amy begins on her adventure after she officially become a vet.
Dr. Cares contents
This wiki is similar to Fabulous Angela's.

Amy Cares, Emily O'Malley, Paige O'Malley, Officer Murray, Lisa Fox Crystal Upton, Jasper Kingsley, Jack Hawkins, Newton

Antonio Napoli, Francois Truffaut

Angela Napoli, Evelyn Napoli, Edward Napoli, Richard Green, Paul

Patrick O'Malley, Jimmy, Brigid Duffy, Jean-Paul

Kate O'Malley, Paddy O'Malley, Norma, Ziggy, Brad, Betty, Elvis, Mo, Tashi, Charles, Matthew, Maggie Tyler, Bill Tyler, Richard Green, Paul, Hunter, Stacey, Carmen, Carlos, Fresco, Philippe Durand, Amelie, Nadia, Fresco II, Officer Jackson, Reverend Baylor, Flannery, Gillon, Desmond, Ashling

Sharon Stepford, Grace Miriam Stepford, Moon Blossom

Allison Heart, Daniel Summers, Connor McCoy

Gino Napoli, Marco Napoli, Vinicio Napoli, Vittorio Napoli

Mary Claus, Jenny Garcia, George, Holly, Brad, Myra, Amanda

Angela Napoli, Virginia Hills, Amber Jackson, Jenny Garcia, Yum-mee, Sally

Angela Napoli, Jenny Garcia, Amber Jackson, Virginia Hills, Yum-mee, Sally, Cindy, Peter

Lori, Celine, Viola, Bruna, Victoria, Yuna, Truly, Eric, Bob

Angela Napoli, Victoria, Emily O'Malley, Jenny Garcia, Amber "Kitty" Jackson, Virginia Hills, Evelyn Napoli, Edward Napoli

Allison Heart, Ruth Phelps, Daniel Summers, Chance Foley, John Summer, Robin Fisher, Connor McCoy, Stan Theman

Daniel Summers, Connor McCoy, Ruth Phelps, Allison Heart, Emily O'Malley, John Summer, Chance Foley, Robin Fisher, David Quinn, Jenny Pope, Joe Albright, Sophia Gomez, Michael Owen, Mason Hamilton, Lisa Asher

Victor Hamilton, Mathilda Heart, Ryan Maples, Sam, Stan Theman

Cathy Bradford, Emily O'Malley, Paige O'Malley

Mary Vanderworth, Emily O'Malley, Richard Vanderworth, Topsy Vanderworth

Sally Milligan, Francois Truffaut, Emily O'Malley, Patrick O'Malley, Paige O'Malley, Angela Napoli, Allison Heart, Evelyn Napoli, Edward Napoli, Jenny Garcia

Mortimer Beckett, Kate O'Malley
Parker and Lane